This slightly tongue and cheek infographic doesn't tell us anything new (facebook is passé for students, snapchat is cool) but it does make me wonder. When I was a teen, time seemed to spread out like a prairie horizon- I was always lingering in coffee shops with my friends, wandering around downtown and going to the second hand shops. Finding an unsupervised space where I could figure out how to be in the world with my friends was not difficult. This is not the case with our youth (whether this is a good or bad thing is another debate for another time). Their unsupervised common space is decreasing faster than Harper's popularity. Each moment of their day is scheduled and because of an increasing societal paranoia, many do not even have the opportunity to go to and from school together on public transportation.
So you can see why they might be a little miffed when us adults are starting to populate their virtual commons. Looking at this infographic, I was struck with the question- why do we even want to be present in their social media? Shouldn't they be allowed to have a space they can call their own?
Thought of the day: Instead of trying to over supervise their social media consumption, why couldn't we do what we do with our own children when we send them out  into the world to fend for themselves? That is, give them the tools and the "streetsmarts" to navigate their world without us hovering over their shoulder.
Here is the article where I found this info graphic:
See on Scoop.it – ipadyoupad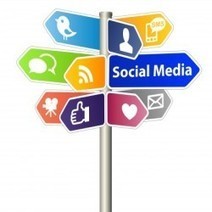 At some point in my life, a few years back, Facebook became much less….interesting to me. Much less cool, even. I thought it was me. I assumed I was getting old and that my friends, acquaintances, and I were just doing less interesting stuff.
See on www.edudemic.com
Here is the actual infographic: