The article below made me think of a conversation I had the other day with Mr. Math and Multi media about how it was going with his flipped classroom. He was telling me that since he required the students to take notes on the videos they must watch at home, it has been way more successful. He then took it a step further and not only required his students to take notes, but to post them to their math blogs.
All the students in his class (and now all of you) can benefit from their notes. The fact that they are public I suspect also contributes to the quality. I have made a pinterest board of all their blogs so you can peruse a sampling of their notes, or click on an individual pin to go their blog.
This is a great example of how you can leverage the use of the iPad (or any device) in the class, from watching the videos or presentations on the iPad, to making notes, to posting them on a blog. All this can be done with great ease on one device.
Below is an article on another way one can use the iPad and collaborative tools in order to create a class pool of notes.
See on Scoop.it – ipadyoupad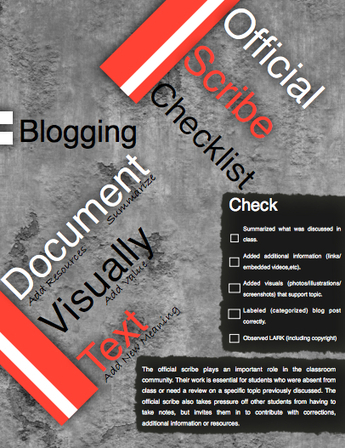 Alan November elevated the "Official Scribe" as one of the roles that empower student learners. I see the role of the scribe as follows: The official scribe plays an important role in the classroom…
See on langwitches.org