As someone who went to a francophone school well into my high school years,  I did not have an English Grammar lesson until about grade eleven. And even then it was extremely basic. In fact, I remember being in a University English class on the history of the English language and our professor being extremely appalled at how little we (it wasn't just me- it was the whole class) about English grammar.
My grasp of the underlying structure of the language is (cough, cough) intuitive at best. Perusing the grammar mind map below, I have just now realized the depth of my ignorance.
Sigh. What a humbling way to start the day…
See on Scoop.it – ipadyoupad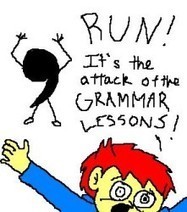 This grammar mind map breaks down basic English grammar into eight branches, and then breaks down each branch a bit further.
Lina Gordaneer's insight:
This one's for you Mr. D!
See on www.edudemic.com