As I have mentioned several times in the last couple of weeks, I am in the process of collecting resources in order to build a digital citizenship program for our school. The idea  is to start with the basics: netiquette, basic safety online, etc. Then move on to bigger topics such as cyberbullying, online identity, positive self- branding and, by grade eleven start tackling the bigger issues surrounding privacy. Below is an amazing video by the Guardian explaining what governments do with the data they collect.
I came across it while reading the article below from the aside blog. The author gives some suggestions about how these issues can be presented to students. One of the means they mention is using popular TV shows. This resonated with me, as I have just started watching Homeland with my daughters. Despite some graphic content and questionable take on Islam (which in itself is another talking point) it is a great way to question the ethics of surveillance and all the surrounding issues of privacy. We end up having some interesting discussions at the dinner table…
See on Scoop.it – ipadyoupad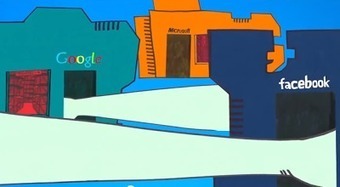 Innovative design crosses over all aspects of education. The American Society for Innovation Design in Education, or ASIDE, seeks to infuse curriculum with new approaches to teaching and thinking.
See on theasideblog.blogspot.ca