Last Thursday our Code Club went to visit the Google office here in Montreal, thanks to our partner in crime Monica Dinculescu, who has generously volunteered to guide us in our quest to code.
After we tore the students away from the floor in the lobby, which is laid out like a huge map of Montreal (they wanted to find their streets), the students were wowed by all the benefits available to the employees:
Food! The google office has one large cafeteria where healthy lunches are served for free every day. They also have two mini kitchens always stocked with coffee, tea and snack items. Also for free. I spied a whole row of Lindt dark chocolate bars. Just that prompted me to consider a career change…
A Gym
A garden room, complete with garden furniture, swinging chairs and chaises longues.
A Nap room
A climbing wall
A game room
A fix-it bar (apparently being a programmer does not necessarily mean you are good at hardware)
A 3D printer which our guide Monica had printing a squirrel
A Google earth display on five large computers, which you could work with a joy stick
The workspaces where teams working on the same sort of things were grouped together. This was by far the neatest- the spaces were open and personalized with plenty of windows. Some had standing desks, some had nerf guns for impromptu battles. Talking to Monica, she told us that Google employees did not need to keep regular hours- she could come in and go home when she wanted. She could even work from home, as long as her work got done. The students were able to see that being a programmer was not a lonely endeavour, no longer the purview of the Geek leaving in his mother's basement. It was a dynamic yet despite the toys, a serious work environment.
At the end, Monica asked the group who would like to work at Google. Let's just say that not only the students raised their hands!
Below is an article that gives some interesting facts about Google in a hand dandy infographic format!
See on Scoop.it – ipadyoupad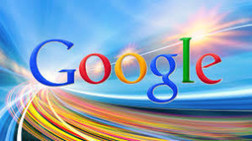 Google has infiltrated most of our lives these days. Not just in the search realm, but in terms of calendars, maps, images, and social connections and more.
See on www.edudemic.com