"[in Australia] 20% of children think pasta comes from animals."
Whatever happened to Home Economics? When I was in Grade ten, Home Ec was required. We learned cooking and nutrition basics as well as how to bake, how to budget and how to sew (I sucked at sewing).  I know, I know, it isn't very iPad related, but this info graphic was too scary not to share. I thin I have to start getting my kids to cook more…
Just a note: I now that in grade nine the students at our school do a nutrition section in their Science class- wouldn't it be great if this could complimented by some sort of food education in another class? I t could even fit into Ethics and Religion.Personal Development. I'm just spitballing here…
Read the article below the info graphic if you like to have your facts and stats in a nice bullet-point form!
See on Scoop.it – ipadyoupad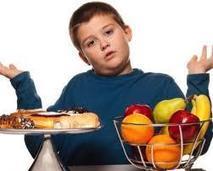 This image takes a look at how important it is to educate kids about food choices and eating healthy. So many kids don't know that real food doesn't come out of a box. Keep reading to learn more.
See on www.edudemic.com