Once again, TechChef4U dishes up some useful information. Though I downloaded Haiku Deck a long time ago, I have been skirting around using it. One of the reasons is that I wanted to convey more information on it than the extremely visual format would allow (of course, putting too much information on your powerpoint or keynote is what has given them such a bad rep  in the first place.)
But Lisa Johnson points out the "added notes" section available which is the perfect solution-when you view the deck on the Haiku Deck site, you see the visual and beside it the notes that accompany the slide.
Also- she mentions how she flips her PD. Which , really, is what Ms. Science teacher did with her presentation on Explain Everything and Notability a couple of weeks ago and which I think we should do more of. I mean, isn't it time we put our money where our mouth is? Or at least the flipped in our own teacher's classroom?
Check out her Haiku decks and her tips for a great presentation- extremely useful!
(Oh- and I want to check out Nearpod now…)
See on Scoop.it – ipadyoupad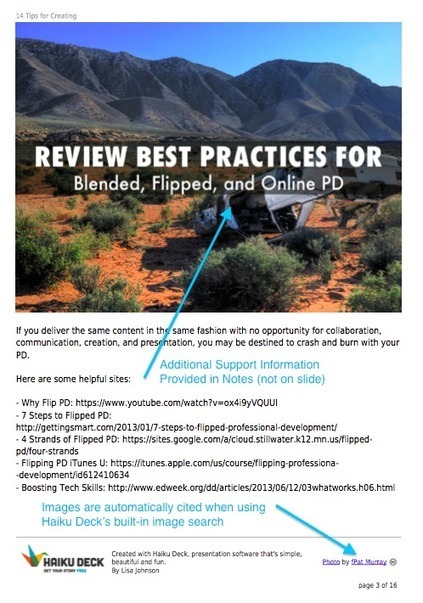 Inspiring case studies, tips, and presentation ideas to help you set your story free, from the Haiku Deck team and our creative community.
See on blog.haikudeck.com