These days, when I check my RSS feeds and blog, I have to really sift among the articles that begin with "10 apps…" or another info graphic. So when I cam across this brilliant lesson plan I was truly inspired.
This teacher maximizes both the physical space and the virtual to set up an engaged and rich discussion among her students. The socratic seminar method establishes the rules of the discussion in the fish bowl while the back channel allows the quieter students who comprise the actual bowl to have their say.(Have no idea what I'm talking about? Check out the wonderful video included in the post). The screenshots of the discussion as well as the video Tolisano includes show an amazingly thoughtful discussion.
This method could be used for discussing literature, but also for discussions on issues in ERC or Contemporary world.
A simple, elegant lesson plan that seamlessly integrates technology in order to enhance student learning!
See on Scoop.it – ipadyoupad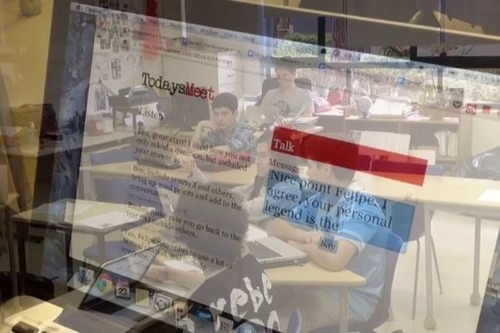 Humanities teacher, Shannon Hancock, at Graded, the American School of São Paulo, read and worked through The Alchemist by Paulo Coehlo with her 8th grade students. Not only did they read the text,…
See on langwitches.org