I've noticed that a couple of the French classes have been borrowing many Bandes Dessinées for a unit on comics. I also know the grade 8s do Persepolis and I think the grade 9s might also have a graphic novel section, though these lesson plans might be better for next year as I think these units have come and gone.
Either way, Lisa Johnson gives some great ideas of how you can use comic making apps in any class- math, science, etc.
As always, the tools she uses are just as interesting as her ideas, which is saying something.'
Check it out!
See on Scoop.it – ipadyoupad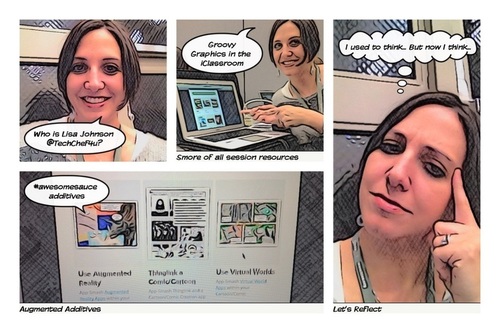 » Groovy Graphics in the iClassroom |
Sharing Full Session Resources for Comic and Cartoon Creation using iPads and Web Tools.
Smore and Thinglink include:
A tour of Student-Created Curricular ExamplesA tour of Graphic Novel Apps and BooksA list of apps that Create Comics/Cartoons100+ Student-Created Curricular ExamplesAugmented App-Smashing ExamplesClever Web Alternatives to Comic Creation AppsThings to Consider when Publishing Student WorkIdeas for Using Comics in the ClassroomIdeas for Using Graphic Novels in the ClassroomAnd Much, Much MORE!!!
See on www.techchef4u.com