Once again, Lisa Johnson gives us a very handy visual in order to think about Digital Citizenship and the questions that come up. She also includes a great list of resources for parents on how to support their child's mindful use of technology. It also made me think that another suitcase is needed though- this is the basic one, the one that sets them up for appropriate use. But their journey is going to be a long one, and they are going to need a trunk for innovative use, don't you think?
(Thanks to Sonia Livingstone for forwarding the links to many of these sites)
INNOVATIVE USER'S TICKLE TRUNK
What I would put in my trunk:
STEM TOOLS
ART AND PUBLISHING
Gaming 
Activism:
What else should we add to our Innovative User's Tickle Trunk?
P.S. Lisa Johnson links to my blog in the post below! Oh, the joy of being linked by a colleague…
See on Scoop.it – ipadyoupad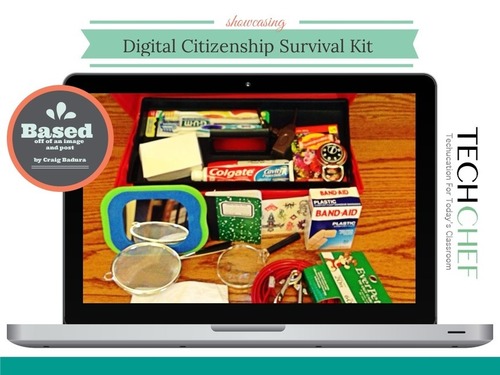 » Connected Educators: Digital Citizenship Survival Kit |
See on www.techchef4u.com